Freezing semen involves collecting semen from the dog and freezing it in straws. We don't freeze semen in pellets. Straws have a predictable, uniform quality and volume; good biosecurity; and are individually identifiable. We prefer to use semen frozen in straws for artificial insemination. Semen frozen in straws can be stored in liquid nitrogen indefinitely.
As a specialist reproduction clinic we want what's best for your breeding programme. We work closely with Just Genes, a company that has been freezing semen for over 15 years, to ensure the best quality frozen semen. They don't do anything else but process and freeze semen – so they are very good at what they do.
If you are planning on preserving semen from your stud dog, contact us early so that we can provide you with the information you need to obtain the best quality semen from your dog and the number of insemination doses you require.
For more information on the process, or costs involved in semen collection, freezing and storage call us.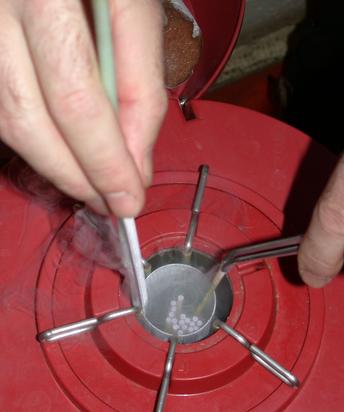 Straws of frozen semen stored in liquid nitrogen.